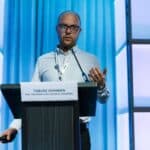 Spotlight on PVC: Day 2 Highlights From Plastic Pipes XXI Conference
26/09/2023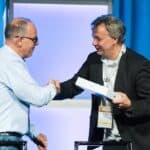 Antonio Rodolfo Jr. Wins PVC Paper Award at the Plastic Pipes XXI Conference
29/09/2023
Tobias Johnsen of the PVC Information Council Denmark and WUPPI A/S shed light on the stringent Nordic standards for plastic pipes. Highlighting the Nordic Poly Mark introduced in 2005, he emphasized the rigorous quality benchmarks set by INSTA-CERT. In a groundbreaking initiative, a Danish partnership successfully tested PVC-U sewer pipes with recycled content, meeting INSTA-CERT's strict criteria. This innovative project not only aligns with the region's high-quality demands but also paves the way for recycled PVC pipes in the Nordic market, underscoring potential environmental benefits and alignment with EU recycling goals.
Vincent Stone, PVC4Pipes Project Leader and Technical/Environmental Affairs Senior Manager at the European Council of Vinyl Manufacturers (ECVM), presented a comprehensive analysis of the lifecycle cost benefits of PVC-U pipes in Europe. Emphasising the significance of thorough lifecycle cost calculations for water and sewer pipe networks, Stone's presentation aided owners in making informed decisions about material selection. Using the Total Cost of Ownership (TCO) tool, he compared PVC to non-plastic pipe materials in Germany and Italy. The findings underscored PVC's cost-effectiveness across various stages, from purchase to dismantling. Additionally, Stone highlighted the economic advantages of recycling PVC pipes, emphasizing the savings in waste disposal, carbon emissions, and the broader economic benefits derived from the recycling industry.
In his second presentation, Vincent Stone delved into updated eco-profiles for suspension PVC (S-PVC) production in Europe by ECVM members, representing 85% of the continent's PVC production. Given the high contribution of the plastic resin on the environmental impacts of a plastic pipe, he insisted on the importance to use up to date cradle to gate data provided by the plastic resin manufacturers. Notably, advancements in energy mixes and a transition to the membrane electrolysis process have led to a 22.3% reduction in the climate impact of chlorine production in 2020 compared to 2011. This shift has compensated the increasing environmental impacts from ethylene, thanks to PVC's high chlorine content.
Antonio Rodolfo Jr. from Braskem S/A was awarded an iPad sponsored by PVC4Pipes for his outstanding paper titled "Fracture Mechanics as a Tool for the Assessment of the Degree of Gelation of U-PVC Pipes." In his research, Rodolfo Jr. explored the essential work of fracture (EWF) approach on PVC-U ABNT NBR 5647-2 regular industrial pipe samples. Using the curved three-point bending (CTPB) specimens, the study confirmed its suitability for EWF testing of pipe samples. The research further highlighted the potential of EWF as an alternative approach for gelation assessment, drawing a correlation between EWF parameters and the DSC degree of gelation. Congratulations to Antonio Rodolfo Jr. for this significant contribution to the field throughout his career!
Ludo Debever from TEPPFA unveiled the study "A Holistic Environmental Footprint Assessment of the European Plastic Pipe Business." As signatories of the EU Circular Plastics Alliance, TEPPFA is committed to enhancing the EU's recycled plastics market. The European plastic pipe sector, which includes PVC among other materials, currently integrates over 400,000 tons of recycled content annually. To holistically address environmental impacts, TEPPFA commissioned a study exploring mitigation scenarios such as introducing recycled and bio-based materials, reducing metal components, adopting greener energy schemes, and improving pipe recycling. Implementing these combined strategies could potentially slash carbon emissions by 25-30%.
Cindy Bray from the Plastics Industry Pipe Association of Australia presented on "How an Industry-led PVC Plastic Pipes Recycling Scheme Can Transform Perceptions and Pave the Way for Sustainable Solutions." For over two decades, Australia's plastics pipe industry has championed recycling, with initiatives like take-back schemes. Motivated by the Australian National Waste Policy's ambitious targets, including an 80% recovery rate from all waste streams by 2030, the industry collaborated extensively. The Construction Plastics Recycling scheme, introduced in November 2021 with Queensland Government backing, aimed to reshape PVC plastic pipes' image, influence user behaviors, and gather data for sustainable solutions. This initiative underscores the industry's environmental commitment and the potential for broader implementation across Australia.
Richard Nichols from the Uni-Bell PVC Pipe Association highlighted the advancements in the "Updated Environmental Product Declaration for PVC and PVC-O Pressure Pipe and PVC Non-Pressure Pipe." The 2023 EPD showcases a 20% reduction in electricity consumption, a 66% decrease in water usage, and a 6% reduction in impact categories for a standard 8" DR 18 pipe compared to the 2015 EPD. These improvements, rooted in the latest life cycle assessment (LCA) conducted as per ISO 14040 series standards, reflect advancements in PVC pipe manufacturing and upstream PVC resin production. The updated EPD also evaluates the environmental impacts of gasketed PVC-O pipe for the first time.
Matthew Hynes from Iplex Pty Limited and Lucy Croker from Vinidex Pty Limited discussed the evolution of Environmental Product Declarations (EPDs) for plastic pipes in Australia. Introduced around 2015/16, the initial EPDs were not fully understood by the industry. Recognising the need for clarity, an educational project was initiated to provide a comprehensive understanding of EPDs. The study emphasised the importance of accurate datasets from Life Cycle Assessment (LCA) databases and the potential of product-specific EPDs. As Australia moves towards 'Net Zero', the demand for transparent EPDs is growing, highlighting the need for industry collaboration to support sustainable construction.
See you in Warsaw for the next Plastic Pipes Conference in 2025!