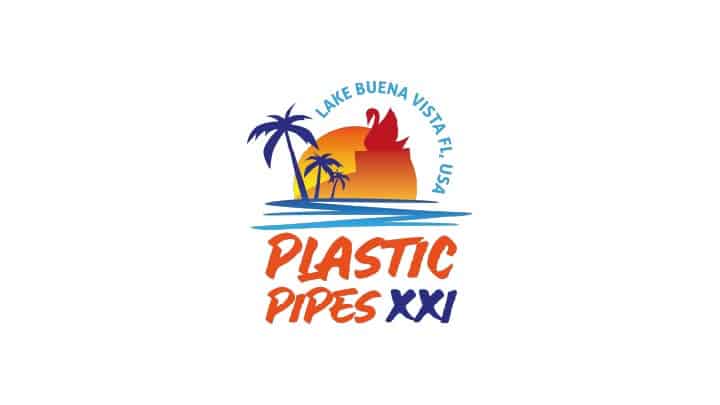 The Plastic Pipe Conference Association Celebrates 50 Years in Lake Buena Vista
25/09/2023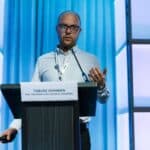 Spotlight on PVC: Day 2 Highlights From Plastic Pipes XXI Conference
26/09/2023
In booth 23, delegates could get up-to-date information material on PVC in piping systems. The PVC4Pipes booth remains open during all three conference days.
PVC4Pipes partner Molecor exhibited normal and large-diameter PVC-O pressure pipes for drinking water and irrigation.
Antonio Rodolfo Jr. from Braskem S/A delved into the assessment of the degree of gelation of U-PVC pipes. Using the essential work of fracture (EWF) approach, they studied U-PVC ABNT NBR 5647-2 industrial pipe samples. Their research confirmed the suitability of curved three-point bending (CTPB) specimens for EWF testing of pipe samples. The study also highlighted the EWF as a promising alternative for gelation assessment, showcasing a significant correlation between EWF parameters and the DSC degree of gelation. 
He also highlighted the Brazilian PVC pipe industry's three-decade-long successful quality assurance programmes. These programmes, evaluated by an independent entity, ensure products meet Brazilian technical standards. With over 90% market participation and near-perfect compliance rates, the industry also actively shapes Brazilian standards
Peter Sejersen from TEPPFA presented the results of research on microplastics from drinking water and stormwater pipes. The studies suggest that pipes made from PVC and other polymers are are not a significant source of microplastics in water. He also delved into the challenging work involved with positive lists for products in contact with drinking water under the EU Drinking Water Directive.
Kathryn Foster from NSF International provided insights into the NSF/ANSI/CAN 61 standard, North America's premier standard for drinking water system components. This standard sets health-based criteria for products, components, and materials that come into contact with drinking water. Foster emphasized the evolving rigor of the standard, particularly in addressing new public health concerns. For instance, the standard has progressively tightened requirements for lead leaching from drinking water components. The presentation underscored how NSF 61, along with the related lead content verification standard, NSF/ANSI 372, ensures that certified plastic piping products do not adversely impact public health
Jay Parvez from the Uni-Bell PVC Pipes Association discussed the evolution of cyclic methods for PVC force mains. He introduced the Folkman method, a new, simplified equation developed in collaboration with Utah State University, to calculate cyclic life for gasketed PVC pipes. This method, accurate across various stress amplitudes, has been integrated into the AWWA C900-22 standard
Zoran Davidovski from Pipelife International highlighted the pressing need for sustainability in the plastic pipe industry. Addressing the challenges posed by global warming, stricter legislation, and the plastic industry's image, Davidovski emphasized Europe's ambitious goals, such as the Green Deal's aim for carbon neutrality by 2050. He shared Pipelife's strategies, focusing on circular solutions to reduce the CO2 footprint in construction and usage phases, underscoring the importance of industry-wide collaboration for sustainability.
Ricardo Pascual Galan from AENOR emphasized the rising social consciousness towards environmental sustainability, particularly in the realm of PVC-U pipes. With the CEN Standardization Committees setting benchmarks for recycled plastic content, AENOR has introduced a certification scheme for recycled material in PVC-U pipes. This certification, rooted in the EN 15343 standard, not only underscores the importance of recycling but also sets rigorous standards for the production and verification processes, ensuring the pipes meet the EN 13476 standard. The approach is backed by real-world case studies.
Orlando Martinez and Giorgio Tabanelli from SICA S.p.A. highlighted the integration of the Rieber system, commonly used in PVC-U pipes, into PVC-O pipes for pressurised water. The Rieber system's application in PVC-O has been challenging due to the heated socket forming process. However, a new thermoforming method has been introduced, ensuring compatibility with PVCO pipes across various sizes and orientations. The article details the unique solutions for this integration, backed by experimental tests.
Ignacio Muñoz from Molecor addressed the pressing issue of climate change and its impact on the pipe industry in terms of sustainability. Emphasising the role of R&D in driving societal change, Muñoz highlights their company's innovative air-based technology that has expanded the range of PVC-O pipes from DN400 mm (16") in 2006 to DN1200 mm (48") today, catering to large diameters and high pressures. These PVC-O pipes offer a sustainable alternative to traditional steel or ductile iron pipes, especially in challenging conditions. Not only do they provide installation benefits, but they also lead to significant energy savings in water transportation. The paper presents a detailed case study supporting the sustainability of PVC-O pipes for pressurised water transport.
Dolores Herran from Molecor presented a new application for geolocating water network components. This tool provides comprehensive traceability for PVC-O pipes, fittings, and other network elements, offering users real-time product information. Registered users can collaborate on projects, adding components, images, and comments. The paper details the app's development and highlights its real-world benefits and user advantages.
Shane Harton from C.W. Brabender Instruments discussed the potential of recycling and reusing poly(vinyl chloride) (PVC) products to promote sustainability. While post-consumer recycled (PCR) PVC blends, sourced from items like discarded vinyl windows and credit cards, offer environmental benefits, they also present challenges like variability and reduced processability. However, with effective analysis and quality control, using tools like torque rheometry, these challenges can be addressed. Torque rheometry helps identify thermal behaviors and multi-phases in recycled PVC, essential for quality control. The findings emphasize the importance of torque rheometry in ensuring the quality and performance of recycled PVC, especially in plastic pipe formulations.
PVC4Pipes Project Leader Vincent Stone chaired the session 2B Wholistic Approach.