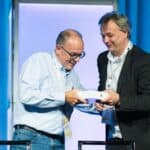 PVC in Focus: Day 3 Key Takeaways From the Plastic Pipes XXI Conference
29/09/2023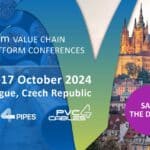 Save the Dates for the 3rd PVC4Pipes Conference
05/12/2023
At the recent Plastic Pipes XXI Conference, Antonio Rodolfo Jr. of Braskem S/A, São Paulo, Brazil, was honored with an iPad, courtesy of PVC4Pipes, for presenting the best PVC paper. His paper, co-authored with Vanderley John of the State University of São Paulo, was titled "Fracture Mechanics as a Tool for the Assessment of the Degree of Gelation of U-PVC Pipes."
The research delved into the study of Unplasticized (U-PVC) ABNT NBR 5647-2 regular industrial pipe samples using the essential work of fracture (EWF) approach. The findings further confirmed the suitability of the curved three-point bending (CTPB) specimens for EWF testing of pipe samples. The results highlighted EWF as a promising approach for gelation assessment, given its correlation with the DSC degree of gelation.
For more information or inquiries, Antonio can be reached at antonio.rodolfo@braskem.com.
Congratulations to Antonio and Vanderley for their significant contributions to the field!