Plastic Pipes XX – the leading conference for the plastic piping industry
After the successful Plastic Pipes XIX in Las Vegas, Amsterdam is set to host the next main event for the plastic piping industry: PPXX. The conference was originally scheduled for September 2020, but due to the coronavirus pandemic it was postponed to 6-8 September 2021. Continuing restrictions mean the physical conference is limited to 120 attendees. Later this year, all presentations will be available online at the PPXX Online event. PVC4Pipes was once again iPad Corner Sponsor. Click here for more information about the event.
PVC pipe highlights
Below is an overview of PPXX presentations and sessions relevant for the PVC piping industry. Download programme.
Title and speaker
Session
Date
Time

SUSTAINABLE STABILISER SYSTEMS FOR PVC – 30 YEARS OF CA-BASED SOLUTIONS

NGO pressure and end of life disposal of PVC articles in the EU over 30 years ago, triggered intense discussion about the sustainable use of PVC and its additives. Stabiliser producers and downstream users of PVC stabiliser compounds base upon lead- and cadmium-based stabilisers have developed solutions ultimately leading to full substitution.

30 years later, Europe has completely eliminated lead use from primary PVC stabilisation additive use in all PVC including pipes and fittings where it was almost exclusively used. This replacement technology (referred to as calcium/zinc or calcium organic) is primarily based upon organic chemistry and metal carboxylates of calcium and zinc. This has been extended to almost all corners of the world over the past decade or so at a very high rate of acceptance, significantly, without enforced regulation or legislation being necessary. Who has selected which system and why for pipes and fittings? This presentation will present the current status.

The main driver today for choice of PVC stabiliser technology (aside of article performance against product standards) remains its total cost, taking into account all operational as well as material costs within the framework of regional chemical regulations allowing the use of chemical substances (e.g. REACh in EU).

Additionally, formulators have taken into account the sustainability of the whole system, including future substance regulation risk, end of life recyclability of the finished article as well as responsible and sustainable feedstock sourcing.

Moving forward, new product stewardship frameworks are being developed to deliver improvements to PVC additive sustainability, as promoted by VinylPlus with its 'Additive Sustainability Footprint', presenting new challenges and opportunities for formulators.

Changes in the reprotoxic classification for organotin stabilisers in Europe, in addition to scrutiny in other regions, is triggering downstream users to seek out similar solutions to substitute the use of tin stabilisers.

This presentation is going to shed light on these various aspects of the current use and future selection of the chemistry of PVC stabilisers for pipes and fittings.

Stefan Fokken
Baerlocher (Germany)

2
6 Sept
13:05-13:25

SMART TITANIUM DIOXIDE FOR ECONOMICAL AND ENVIRONMENTALLY SUSTAINABLE OPTIMISATION OF PLASTIC PIPE FORMULATIONS

The use of novel primary opacifying pigments as partial replacements for Titanium Dioxide provides significant performance and cost reduction opportunities for the plastics formulator. The provision of a "fixed dispersion" next generation Ti02 ensures the best optical efficiency is maintained and thus maximize the effective use of all of the titanium dioxide partides employed in the pipe compound, all while maintaining an economically sustainable advantage.

In addition to maintaining produet quality and performance, this next generation Ti02 has a significantly lower carbon footprint than conventional Ti02 and thus offers more sustainable technical solutions. When replacing 10 - 35 wt% of the Ti02 in a PVC pipe formulation, the unique particle morphology and functionality enables the manufacturer to better Optimise their formulations and to positively enhance the overall performance of PVC pipe systems. This paper will review the technology, present a reduced carbon footprint as well as the most recent laboratory results in developing an improved sustainable PVC compound using smart titanium dioxide.

Andrew White
FP-Pigments Oy (UK)

2
6 Sept
15:15–15:35

TESTING AND EVALUATION OF NANOADDITIVES IN U-PVC PIPES

In the last decades, research on nanostructured materials as additives for plastics involved several polymeric matrices, but only limited studies and publications involve PVC. In this work, the context of rigid application of PVC (U-PVC) for pipes application was targeted, in order to test and evaluate the structural and functional role of different nanoadditives on the final properties of the materials. The goals of the study were focused on industrial needs and was carried on involving seven relevant PVC pipe producers in Italy within a 3-year study. To match the needs of producers and compounders, two conventional rigid U-PVC formulations for water distribution and sewage were modified with nanomaterials in variable amounts from 0.31 to 5 phr. Nanoadditives were selected considering their commercial availability in industrial quantities, and materials processing was based on pilot-scale machinery fully compliant with production plant equipments.

The study highlights the capability of nanostructured additives to dramatically change the properties of polymeric matrices with added quantities lower than 2.5 phr. The most striking improvements were observed in the mechanical performances, where an enhancement in rigidity and a simultaneous increase in tensile strength and elongation (i.e. nanoreinforcement) were found. As well, tests related to thermal stability, gelification and internal stress were carried on and related to the composition.

Enrico Boccaleri
Università del Piemonte Orientale (Italy)

3
6 Sept
15:35–15:55

SLOW CRACK GROWTH RESISTANCE OF REPROCESSED PVC

Since several years, the European plastic pipe industry is supporting activities which reduce the carbon footprint of plastic pipes. In compliance with existing standards, by 2017 already more than 240,000 tons of recycled polyolefins and more than 110,000 tons of recycled PVC was manufactured into non-pressure pipe applications.

To fulfill desired lifetimes of non-pressure pipes of 100 years or even more, the long-term resistance of the materials against crack initiation and slow crack growth (SCG) is an essential mate- rial parameter. Especially in the context of recycled plastics, special attention must be paid to a careful assessment of the fracture mechanical long-term failure resistance. While for PE and PP several representative studies about the effect of recyclates on the crack resistance in recyclates is available, nearly no scientific studies have been reported for recycled PVC. Therefore, the current paper is focusing on the effect of repeated reprocessing on the SCG resistance of PVC.

For a quick characterization of the SCG resistance, the Cyclic Cracked Round Bar (CRB) test has been developed for PE pressure pipe grades. For the current study an initial focus was put on the applicability and sensitivity of the CRB test on PVC in general as well as on the investigation of changes in the SCG resistance after repeated reprocessing of the material. Therefore PVC-U pipe compounds with three different K values were manufactured and characterized. The generated results demonstrate the influence of the K value on the SCG resistance of the material. Furthermore, these compounds were repeatedly shredded and remanufactured up to ten times and tested after every second reprocessing step. The SCG failure curves show that even after ten reprocessing steps the SCG resistance was not influenced significantly, confirm- ing a high insensitivity of repeated processing of PVC-U on the crack resistance.

Andreas Frank
Polymer Competence Center Leoben (Austria)

3
6 Sept
15:55–16:15

PVC-O DN800: EFFICIENT TRANSFORMATION FROM SOIL TO IRRIGATED LAND

"Food is the new oil and gas" is a rather bold statement, but everyday more and more population is concern about food scarcity. Bringing irrigation to not productive lands will change the lives of the community and if it can be done with a cost effective and the most eco friendly solution, even better. This case study is about a project to transform 244 hectares into irrigated land in the La Sarda region of the municipality of Pedrola (Zaragoza, Spain) with DN800, PN16 bar pipes, and about how the most cost effective alternative was chosen among cast iron, helical steel and reinforced concrete with metal sleeve.

Molecular orientation applied to PVC pipes has been around for few decades now, but we cannot say the same regarding large PVC-O pipes (from DN800 to DN1200). The current state of the art technology applied to this sector opens up fields of application not explored before with PVC-O pipes, and what is more important, this development brings to the table a very much competitive product with regards of metal pipes. The supply conditions, with a very high instantaneous flow in a very short period of time, the high installation performance in meters/hour, the anti-corrosion properties, ease of assembly and lightness, among others, were the main reasons why PVC-O pipes were chosen for this. The most suitable diameter was calculated and considering the investment and power costs, the DN800 mm was the one which better fitted for this project.

This paper explains in detail the background of the project as well as the purpose and planned solution of the works together with the implementation phases, calculations made and conclusions reached.

Dolores Herran
Molecor Tecnología (Spain)

5
7 Sept
11:00-11:20

RECENT DEVELOPMENTS IN INTEGRAL JOINT RESTRAINTS

Integral gasketed PVC belling was developed in the 1970's. By including the gasket in the pipe belling process and introducing a relatively stiff metal reinforcement, a pipe joint was created with an integrated gasket providing multiple advantages which remain decisive nearly 50 years later. Among these advantages, the installation step was eliminated along with possible human error related to it; the seal OD and the raceway ID dimensions, and their tolerances were paired (a larger seal will produce a larger raceway and vice versa); contamination of the raceway surface with dirt, sawdust and other foreign materials was eliminated; and the seal became extremely difficult to dislocate during spigot assembly. Aside from that major accomplishment, a variety of gaskets have evolved from the original concept. These provide various levels of balance between ease of belling, assembly force and performance in pressure or non-pressure applications, depending on the shape of the region sealing on the spigot side ranging from a relatively bulky ring to a slender lip. In all cases, the new developments are robust and reliable solutions for the piping industry. For more than 20 years, nonlinear finite element analysis, design and experimental validation have been performed in multiple manufacturing, testing and operating scenarios, adjusting existing joint designs, creating new ones or finding new applications such as internal joint restraints.

This paper reviews key learnings from these experiences and presents practical insights as the technology evolves together with PVC pipe. For example, it reviews how the stress distribution on the joint deviates from thin-walled cylinder theory usually applied to straight sections of the pipe, how sensitive this is to wall thickness and how it can be addressed with simple design rules. The latest analysis and design procedures involve top of the line computer aided engineering software and material models such as hyperelastic, bilinear elastic-plastic, viscoelastic, combined into nonlinear simulations including high deformation, large displacements and sliding contact with friction, applied to the belling process, the assembly and the application of fluid pressure. In addition to new perspectives and design possibilities, this provides a refreshing look back into history and the ability to come up with simple and effective solutions for such a challenging task as the integral design of pipe joints and their gaskets.

Peter Dahlerup
HULTEC Europe

7
7 Sept
15:00–15:20

MODELLING THE MIGRATION FROM PVC-U PIPES INTO DRINKING WATER

In the framework of the German Environmental Agency (UBA) requirements of plastic articles in contact with drinking water, the compliance is verified by comparing migration levels, CW's, of substances contained by the plastics with specific limits in drinking water (so-called MTCtap's). In practice, the analytical determination of the CW's is often a challenging, time and costs intensive task. This is especially true for materials like PVC-U, where the migration levels are, in most case, far below the detection limits of the most modern analytical methods.

For such situations, an UBA Guideline recommends the use of migration modelling for the estimations of CW's. To perform such calculations a series of input parameters are needed, among them the diffusion and partition coefficients, DP's and KPW's, of the migrating substances are the most challenging ones. In recent years by investigating migration of substances from a series of polyolefines into water, has developed methods which allow the estimation of "conservative" D+P's and K+PW's, for compliance migration calculations for any organic additive found in these polymers.

In this presentation, the extension of these results for a series of substances migrating from PVC-U samples in drinking water will be presented. It will also be shown how this information was implemented in a special software with which migration estimations as stipulated in the KTW-guideline can be performed.

Christoph Losher
FABES Forschungs-GmbH (Germany)

8
8 Sept
9:20–9:40

FINDING THE RELATIONSHIP BETWEEN NON DESTRUCTIVE TEST METHODS AND THE TENSILE IMPACT TEST ON PVC PIPES

More than 20,000 km of rigid PVC (or PVC-U) pipes are currently in use for the distribution of natural gas in the Netherlands. In this decade the majority of these pipes will reach their initially specified lifespan of 50 years. In the light of a possible replacement surge it is increasingly important to establish the actual material quality of these pipes. To gain insight in the remaining quality of the PVC-U pipes in the Dutch gas distribution net, a so-called Exit Assessment program was started in 2004. In this program the quality of existing PVC-U material is determined by measuring the brittle-ductile transition temperature of the excavated pipes with a tensile impact test. The ultimate goal for Dutch Distribution System Operators (DSOs) is to assess the remaining quality in the field without the need for removal of pipe segments.

The color of the material on the inside and outside of a pipe can change because of physical processes, for instance due to stress whitening or uv-radiation. Both the color measurement using an ultraviolet-visible spectroscopy (UV-vis) and the hardness measurement using the Leeb rebound hardness test, can be performed non-destructive and could give more information about the remainder quality of the PVC pipe. Goal of ongoing research is therefore to find a correlation between this tensile impact test and the non-destructive techniques (NDT).

The first experiments with UV-Vis measurements on both the inside and outside of PVC pipes show a relation with the surface roughness of the pipe. Ongoing measurements on the current database with tensile impact test results will give the opportunity to search for correlations between the tensile impact test, the UV-Vis measurements and the Leeb hardness test on the inside or outside of the PVC pipe wall. If this correlation is established new opportunities for NDT measurements in the fields can be developed like measurement of the outside color of PVC pipes in the field or development of a sensor for measurements on the inside while using a robot. This paper therefore gives valuable insight in the color measurement of PVC pipes. Besides the correlation between the UV-Vis, Leeb hardness and the tensile impact measurements is investigated, revealing insight in the usefulness of these non-destructive technique for PVC pipes.

Sjoerd Jansma
Kiwa Technology (The Netherlands)

11
8 Sept
 15:20–15:40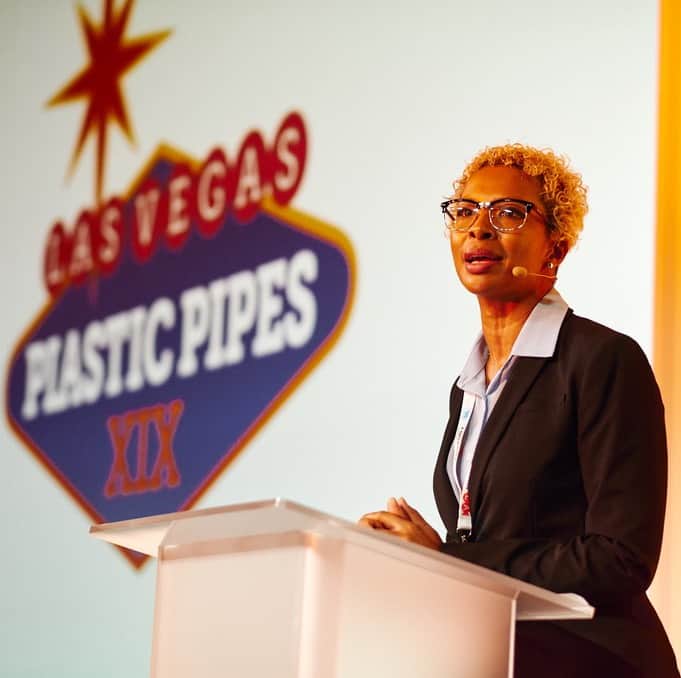 Plastic Pipes XIX:
a great success
PPXIX was held in Las Vegas, USA. Approximately 210 companies attended PPXIX, representing many countries. Key subjects presented and debated were market issues, plastics pipeline solutions, application areas for plastic pipes, processing, test methods and performance, and sustainability. Check out the highlights in the image gallery below. More photos are available at ppxix.com.