Spotlight on PVC: Day 1 Insights From Plastic Pipes XXI Conference
25/09/2023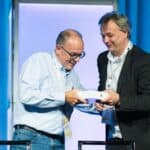 PVC in Focus: Day 3 Key Takeaways From the Plastic Pipes XXI Conference
29/09/2023
Tobias Johnsen and Ole Grøndahl Hansen from PVC Information Council Denmark presented a compelling case on "How PVC Pipes Can Contribute to Food Safety in the World's Mega-Cities." As urbanisation surges, the duo highlighted the significance of PVC in urban farming, emphasising its durability, weather-resistance, and chemical stability. They showcased examples from Rwanda and Denmark, where reused PVC pipes have become sustainable plant containers for community kitchen gardens.
Steven L. Barfuss from Utah State University shared findings from the most comprehensive water main break survey ever conducted across the USA and Canada, a continuation of studies from 2012 and 2018. The data underscored PVC's growing market share across North America, reaffirming its position as the material with the lowest break rates. This trend emphasises PVC's unmatched durability and the utilities' increasing confidence in its performance.
Karin Jacobson from PDS Consulting AB emphasised the benefits of PVC and CPVC pipes in safely transporting chemicals, noting their superior corrosion resistance and durability. Specifically, PVC and CPVC have shown remarkable performance with chemicals like hypochlorite and ClO2, boasting service lives of up to 30 years.
Roland Valk from Kiwa Technology presented findings on the "Leak Tightness of PVC Fittings with Hydrogen." Sponsored by PVC4Pipes, the study delved into the potential of PVC in the transport and distribution of hydrogen gas, a rising energy carrier. The research evaluated the maximum angle of deflection before leakage in PVC joints and hydrogen permeation rates in PVC pipes and joints. Notably, their results indicated that the permeation rates are significantly below safety thresholds, suggesting that PVC could be a viable material for hydrogen transport in the future. See more.
Joaquin Lahoz from Centro de Ensayos, Innovación y Servicios (CEIS) unveiled a study titled "PVC-U Pipes: Optimal Extrusion Conditions for a 100+ Year Design Lifetime," sponsored by PVC4Pipes. The research highlighted the pivotal role of extrusion conditions in determining the gelation degree of PVC-U, subsequently affecting the physical attributes and longevity of PVC-U pipes for pressurized water. Initiated in 2020, the study sought to correlate extrusion temperature with the anticipated stress resilience of PVC-U pipes over a century. Results indicated that an extrusion temperature of 180ºC is ideal for achieving a class MRS250. Minor temperature increments further optimize the projected lifespan. This groundbreaking research suggests that, with the right conditions, PVC-U pipes can sustain their design stress values for over 100 years, providing invaluable insights for water supply network designers.
Rainer Viessmann from Hans Weber Maschinenfabrik unveiled a groundbreaking screw geometry for counter-rotating twin screw extruders. This patented IF screw design, with its wave-shaped threads in the circumferential direction, optimizes the plasticizing, homogenizing, and dispersing processes specifically for PVC. Unlike conventional screws, the IF screw ensures a more effective and faster introduction of mechanical energy into the PVC, resulting in a more homogeneous melt. This innovation minimizes defects, enhances energy efficiency, and promises an optically superior PVC product, marking a significant advancement in extrusion technology.
Ludo Debever from TEPPFA emphasised the European plastic pipe industry's dedication to recycling in line with the European Plastics Strategy. Championing the Circular Plastics Alliance's goal to use 10 million tons of recycled plastics in new European products by 2025, TEPPFA is actively integrating recycled content in PVC pipe systems without compromising quality. The challenge lies in adapting current European product standards, which often restrict recycled materials. TEPPFA's initiatives include revising these standards, innovating faster test methods, and addressing country-specific regulations. The overarching aim is sustainable recycling while ensuring product durability.
Robert Smith of PMC Organometallix shed light on "Selection and Evaluation of Organotin Stabilizer Chemistries for PVC and CPVC Pipe and Fitting Systems." Smith traced the evolution of tin mercaptide stabilisers in PVC stabilization, emphasising their transition from carboxylates to high-efficiency tin mercaptides. He also presented hands-on case studies, illustrating the practical applications of these stabilisers in PVC water pipes, fittings, and C-PVC pipes.